VF563 Series Blow-By Flow Meter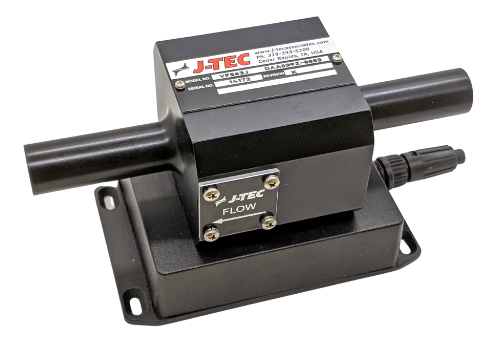 Measuring the flow rate of blow-by gases as they flow out of the crankcase vent is an effective way to monitor piston-ring sealing, lubricant performance, and crankcase ventilation systems. The VF563 is the flow meter of choice for measurement of crankcase blow-by gases in engine emissions testing applications.
J-TEC Associates Blow-By meters provide all the advantages of vortex shedding flow meters, in a design that is perfect for rugged applications, such as engine dynamometer testing.
The J-TEC design incorporates a small strut, which offers minimal flow restriction, for high accuracy over an extended range. Each meter is individually calibrated to NIST traceable standards.
J-TEC Blow-By flow meters have no moving parts, so they are rugged and trouble-free.
Benefits of the VF563
40:1 turndown ratio

Continuous flow readings

High accuracy

Excellent repeatability

Minimal effect on engine performance during blow-by measurement

Low pressure drop

Excellent at low flow (down to 0.14 ACFM)